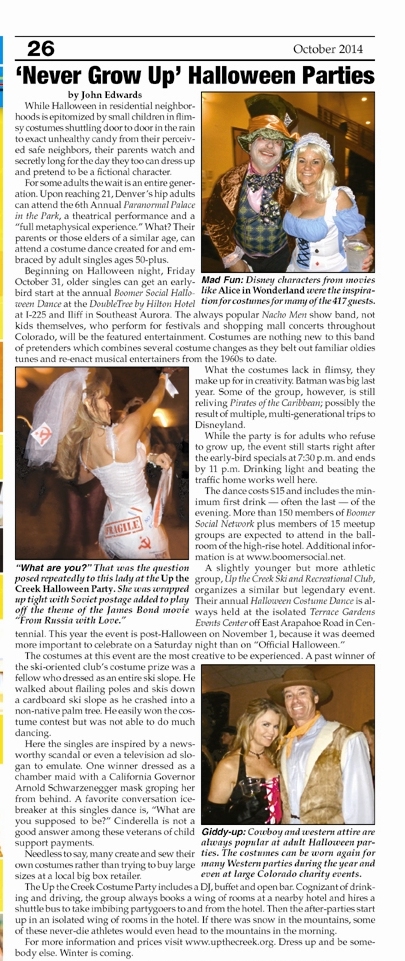 This Halloween story that appeared earlier this month in the 84,000 circulation Glendale Cherry Creek Chronicle monthly newspaper was written by the publication's Social Scenes columnist John Edwards, who oddly enough is a member of both these organizations and plans to attend both costume parties.

Halloween Costume Dance
The Nacho Men Band
Doubletree by Hilton Ballroom
Southeast Aurora
Friday October 31
Actual Halloween Night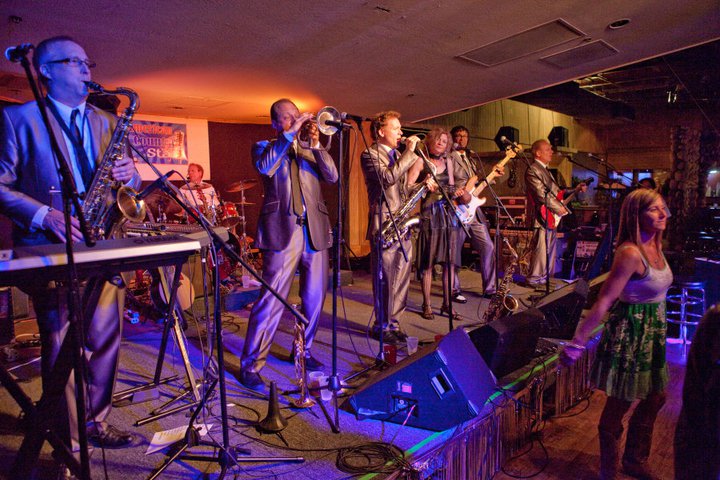 The Nacho Men Band played for a romantic gathering of 205 at our Valentines Day Dance that turned enthusiastic. Colorado's famous rock and roll oldies band played a busy schedule of concerts, festivals and charity events this summer. They will again team with Boomer Social to fill the entire ballroom of the Doubletree by Hilton Hotel in Southeast Aurora for an "actual Halloween night" dance.

Ready to Play "Y-M-C-A"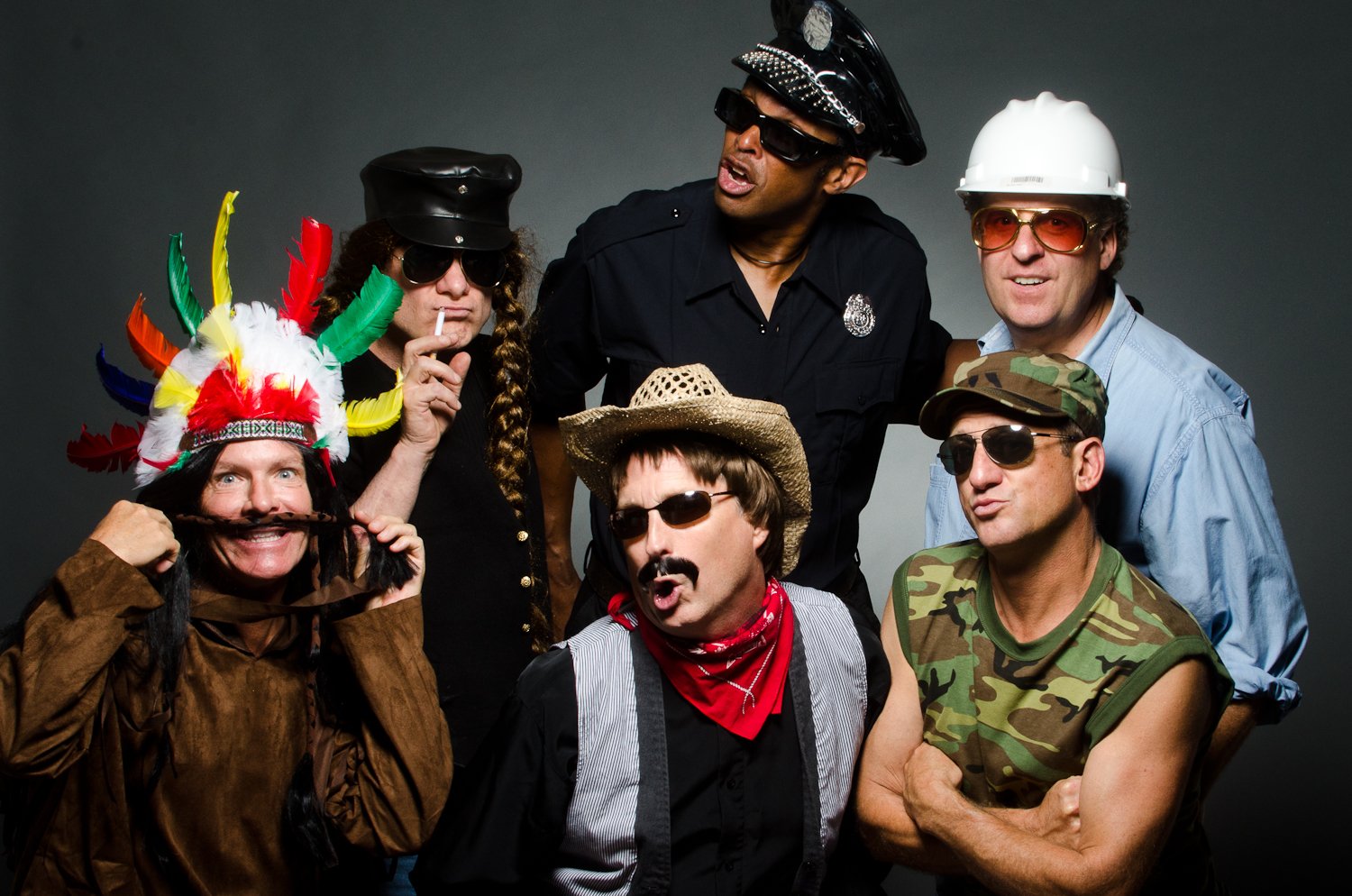 Although band members have changed over the years, The Nacho Men is Colorado's best known band for pleasing a crowd. The veteran musicians have a long history of playing for charity events, county fairs, college reunions, mountain festivals, shopping center concerts and every year as the featured entertainers at Denver's Grand Hyatt Hotel on New Year's Eve. The Nacho Men are famous for their namesake disco song "Macho Man" and their signature rendition of "Y-M-C-A" where members dressed in costumes, dance in somewhat precise choreography while their entire audience gets insanely involved---remembering but not acting their age..

Our Three Song Mixer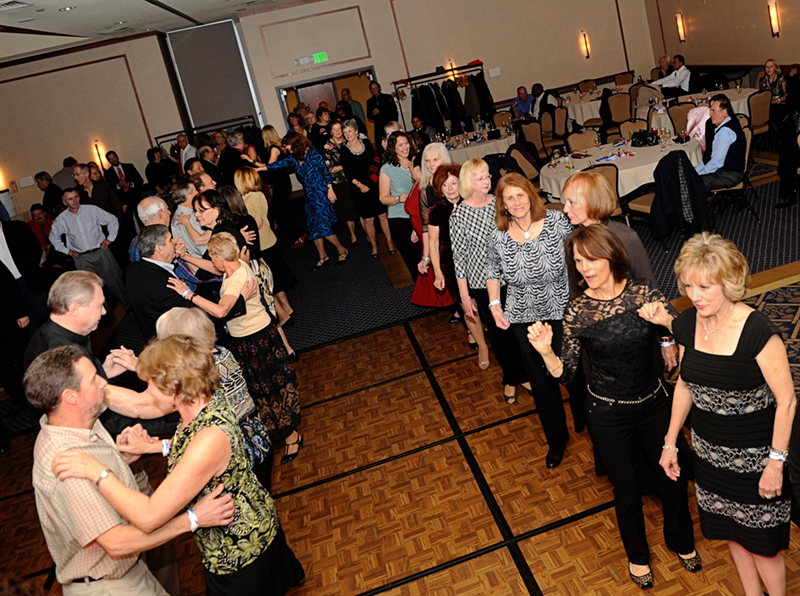 A three-song mixer starts the evening even before the band starts. Starting with the real oldie song "The Stroll" we move on through the upbeat music of "The Miami Sound Machine" that allows guest to meet each other-- briefly. Line dances and cowboy cha-cha's are played during band breaks. The $15 admission at the door will includes the first mixed drink, glass of wine or bottled beer and costume prizes for men and women.

Doubletree by Hilton Southeast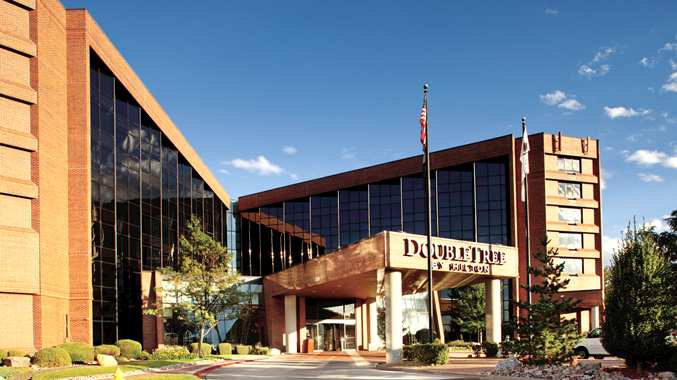 The Doubletree by Hilton Hotel is located at the intersection of I-225 and East Iliff in Southeast Aurora. The dance is in the large ballroom. Free lighted parking is available in front, along the side at the back of the hotel adjacent to the Ballroom Entrance.
---
| Return Home | Weekly Newsletter | Past Dances | Singles Golf & Dine | Cruiser Bike Rides | Singles Cruises | Groups Happy Hour | Stories Photos | Host and Music |