Organizer & Host
John Edwards
Boomer Social Network is organized by John Edwards, an advertising and marketing consultant. He is also the editor and publisher of The Colorado Golfer, the state golf newspaper.
His 22-year relationships with Colorado country clubs, golf courses and hotels allow him to host dances at these locations.
Summer holiday singles picnics are held at the Foothills Golf Course in Lakewood and Creekside Park in Glendale. Events have also been held at Heather Ridge Country Club, Overland Golf Course and Kennedy Golf Course clubhouses. The Sheraton Denver Tech Center Hotel, the Red Lion Hotel in Aurora and the Doubletree Denver North in Westminster are used for the big ballroom dances.

He organizes events in conjunction with other singles event planners such as Lory Gallagher of Spread the Word Network and Kathy Appleton of the 49-90 Club.

John began organizing singles dances in Denver in 1967 at the Lowry Air Force Base Officers Club while serving as the base Public Relations Officer. Throughout the 1970's, he was marketing consultant to some of Denver's largest and most famous nightclubs including The #3 Lift in Glendale, Sweetwater live music club in Denver, Yesterday's Country in Lakewood and the Harvest House Hotel in Boulder.

In the 1980's, he ran Professional Social parties for singles in the 30+ age every Tuesday night at the Wellington Broker in Glendale. Additionally he did a similar party every Wednesday night at the Boulder Broker and every Thursday night at The Raintree Inn in Colorado Springs. That hectic schedule lasted for three years.

During the 13 years he was married, John still consulted for area hotels, restaurants and nightclubs. For the past 25 years, he has published the Colorado Golfer, the state golf newspaper.

He is the national President of the Golf Travel Writers of America and created Hawaii Golf Cruises. A recognized golf travel consultant, he has been on 19 cruises and has stayed at and written feature stories about more than 80 of North America's top golf and spa resorts. He has also visited and written about resorts in Scotland, Ireland, England, Spain, Italy and France. He is affiliated with the full-service Spirit of Travel agency in Aurora.



Dance Organizers
Lory Gallagher
&
John Edwards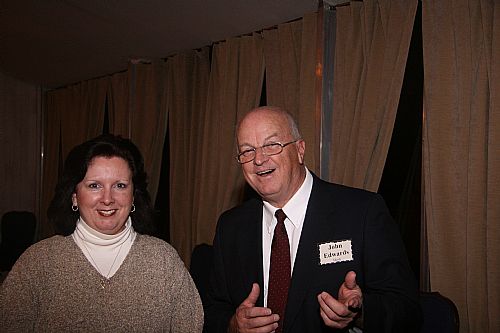 Lory Gallagher and John Edwards team up to present the Dance Odyssey events at the Sheraton Denver Tech Center Ballroom on selected Saturday Nights.










---
| Return Home | Our Future Events | Singles Golf | Monday Meetup & Meal | Event Photos | About Us | About Us-- Our Music | Travel | E-mail Form |